SILHOUETTE INSTALIFT ™ – The Newest Non Surgical Procedure to Lift Sagging Facial Skin
What does this new minimally-invasive technique mean to you? It means an immediate actual LIFT that does not require surgery.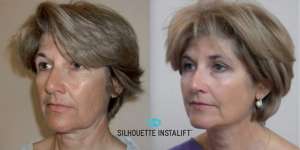 In one simple, short office procedure of about 45 minutes, you can walk out looking like you did years ago.
InstaLift Simplified
Very fine biodegradable sutures are placed deep into the skin. The suture design allows Dr. Pilest to reposition sagging tissue in the mid face to a higher, more youthful position. The results are immediate. The treatment is not painful. Your lift should last about 18 months.
At this time, the FDA has approved InstaLift for the mid face, so you can expect improvements for both cheek area and jowl.
Why Silhouette InstaLift?
Immediate lifting effect
Progressive restoration of the body's own lost collagen
Entirely re-absorbable material
Non-surgical technique
Minimally invasive procedure
Minimal recovery time
Natural looking